Pet Insurance in Indiana & Illinois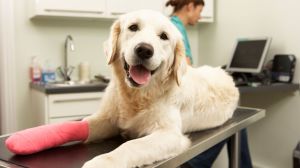 You love your pet, so the decision to take care of him or her is a simple one for you and your family. Our pet insurance provider offers customized coverage options at a price that's right for you and will reimburse your pet expenses after your pet is treated at the veterinarian. Pet Insurance has become more popular as the recent advancements in veterinary medicine are helping pets live longer, but many times these treatments can be costly.

Coverage for Your Pets
Coverage available for accidents and illness with the option of adding preventive care coverage at an additional cost.

Choose from a range of different annual limits, deductibles, and reimbursement percentages.

You'll have the freedom to choose any veterinarian, specialist, or emergency clinic.

No waiting period for Preventive Care.
Options To Choose From
Annual coverage limit options of $2,500, $5,000, $10,000, or $15,000.

Annual deductible options of $100, $250, or $500.

Reimbursement options of 70%, 80%, or 90% of eligible charges.

Discounts are available for multiple pets.

Add Preventive Care coverage to your policy for dental cleanings, wellness exams, heartworm tests, DHLPP vaccines, and more.
At Rosenwinkel Insurance, we'll help you build a policy that's right for you and your furry family members!