Recreational Vehicle Insurance in Indiana & Illinois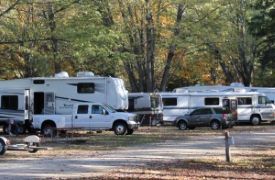 As your Independent Insurance Agency in Hammond and Crown Point (Lake County) we have connections with some of the top rated insurance companies which allows us to find competitive rates and the right coverage for your toys. We go camping as often as we can and enjoy our "home in the woods" with the kids, family and friends. It would be our pleasure to help you protect your outdoor adventures!
We can even offer liability coverage on your park model policy for your permanent campsite. This will help protect you against a lawsuit if someone gets injured on your site. You never know when kids might play on your site while you're not there! Please call us for more details.

Recreational vehicles provide a lot of enjoyment but also bring with them some unique risk and exposures. We can help protect you. Some of the Indiana & Illinois recreational vehicle insurance coverages we offer are:
Motorcycle Insurance
ATV insurance
Boat Insurance
Personal Watercraft – Jet Skis, Sea-Do
Snowmobilies
RV Insurance including Campers, Motorhomes, Park Models and trailers

And don't forget, many of your favorite toys have trailers you may also want coverage for. Whether you're a current customer and acquired a new toy or you are shopping around for help through a new agency, let us wow you with our insight on protecting your off road activities! We can insure your park model in Indiana and Illinois.

Feel free to select one of our online quote forms or just give us a call at (219) 932-8283 (Hammond) or (219) 662-1111 (Crown Point).